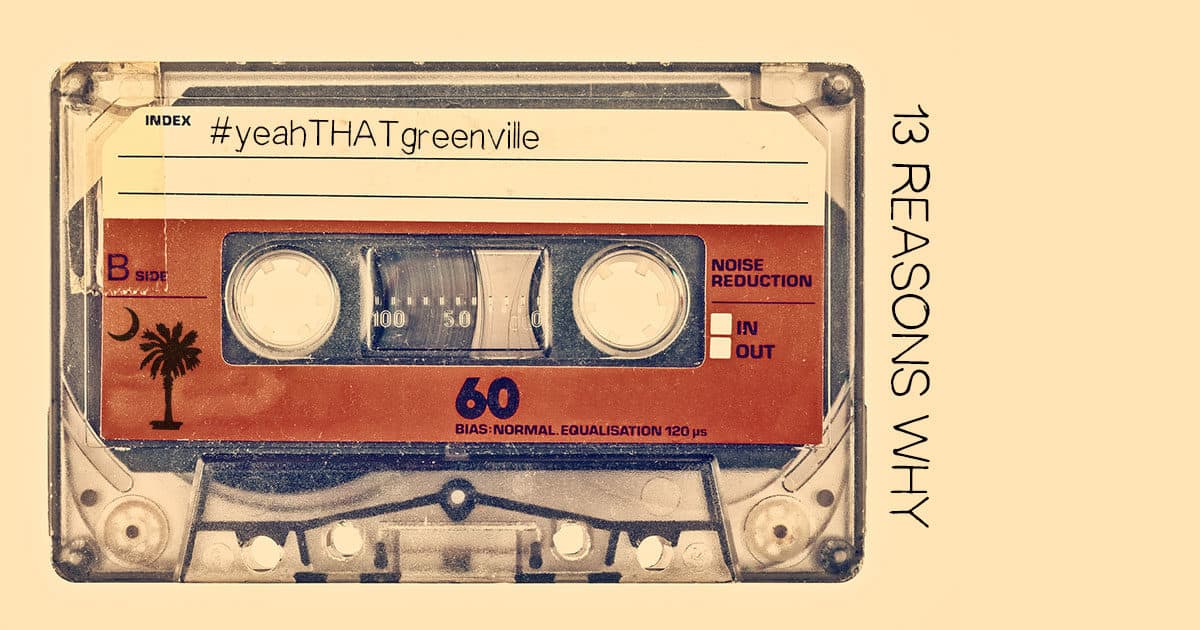 Don't adjust whatever device you're reading this on. There's no one word to tell you why we love our city. We just do. No return engagements, no encore, and this time, absolutely no requests. Get a snack. Settle In, because we're about to tell you why we love greenville so damn much.
1. Falls Park
The crown jewel of our city. Flanked by the governor's school on one side, and the bustling main street on the other. The beautiful waterfall and endless green areas, benches and swings to sit quietly and read. Nowhere else can you feel so at peace, yet be in the center of the city.
And the Iconic Liberty Bridge, giving you unparalleled views of the falls and connecting Main Street to Camperdown, soon to to be the site of a world-class hotel.
2. The Food Scene
Oh my god the food. The quality and sheer quantity of amazing restaurants in such a small area is impressive to say the least. It seems like every couple weeks a new restaurant is opening or announced. And we have our own foodie ecosystem that blogs and posts on instagram showcasing all the amazing bites to the world. (Hi @theupstatefoodie, @christeneats and @arielturner)
Some of our favorites are Oakblue Kitchen, Willy Taco, The Common Cure, Sully's Steamers, Rick Erwin's Deli, Smoke on the Water and Menkoi. There are dozens more we haven't even had a chance to try yet, and that's a good thing.
3. The GHS Swamp Rabbit Trail
The trail has been essential in laying the groundwork for a healthy, active community in Greenville. It' provides a safe gateway from the city all the way up to Traveler's Rest for walkers, runners and cyclists, and is spurring new business along the way. A new city park, a new location for the blue ridge brewing co are just a few recent plans added along the trail.
It will soon pass through the new Cancer Survivors Park and complete the connection back to Cleveland Park, with a spur planned to take it along laurens road all the way over to the International Center for Automotive Research (ICAR).
4. Main Street
Not so much fun in a car, but a joy on foot. Main street is a rich tapestry of restaurants and shops. It can be easily walked from one end to the other, or you can hop on the Trolley and enjoy it seated. It feels safe, thanks to good planning with proper buffers between vehicle and pedestrian traffic, and it's lined with outdoor seating at a number of restaurants and shaded by many large trees, and it gets even prettier at night when the lights come on.
5. Community Events
There's so much to do in greenville. During the warmer months, main street comes alive with music at NoMA square on Thursdays and Friday Nights, a Farmers Market on Saturdays, and don't forget about the Reedy River Concert Series  on Wednesday Nights in June, July, and August, they're free, and BYOB – you just have to buy a $1 wristband.
Then there are the big events like Artisphere (5/12-5/14), Fall for Greenville (10/13-10/15) and the Community Tap Craft Beer Festival (4/29) where the city partially shuts down for an influx of people to enjoy the hard work of businesses in the city.
6. The Location
45 minutes to the mountains. 75 Minutes to Asheville, A little over 3 hours to Charleston, Less than 2 to Charlotte. We can easily plan a weekend escape to the wilderness, beach, or a bigger city, have a relaxing Saturday somewhere and be back in time on Sunday to finish up the laundry and binge on some shows before getting back to the Monday grind.
Traffic headaches aside, during non-rush hours, you can pretty easily get from one side of the city to the other in a few minutes, and we've got pretty much all the same major retailers of any big city (please build an IKEA near greenville)
7. Greenville County Rec
The Recreation department in Greenville County manages over 55 Parks, trails and recreation facilities, including 3 great water parks for those hot summer months. They do an amazing job keeping the parks and facilities up to date.
Check out Herdklotz Park – it's  built on the property of the former Hopewell Sanitorium, a former tuberculosis hospital – I remember going there at night with some friends in high school and wandering around inside with flashlights. Part of the Root Cellar was kept intact on the property.
The County Rec department also manages the GHS Swamp Rabbit Trail, and the massive Conestee Nature Park (where the dog park is now located). They do an amazing job keeping greenville beautiful.
8. Keeping Historic Buildings Historic
The City and Design Review Board do a great job keeping the historic buildings in downtown true to their roots – and blending new architecture in with the old. Repurposing old buildings is seen time and again with the developments at Upstate Commons, Markley Station and Hampton Station.
It's seen behind the Peace Center with the Hugenot Mill behind the Peace Center in contrast to the brand new construction across the river where the Lazy Goat, Embassy Suites, O-Cha Tea Bar and Papi's Tacos sits. And of course Mary's Cottage, which is unique in it's own right – built in 1894, it was initially a rental house, then a gas station, and eventually in 1972 the Carolina Foothills Garden Club acquired the property and named it Fall Cottage.
9. The Media
In addition to the standard newspaper and television outlets, there is a growing network of independent media outlets reporting on news and events going on in the city. Greenville360, The Local Greenville, Humans of Greenville, and Off the Grid Greenville which bring a unique perspective. Like us, some of them do it in the spare time out of their love for the city. Empowered by the low cost and ease of reach from the low cost of hosting a website and setting up social media accounts, there is a new crop of budding reporters to cover even the most niche topics in the city.
10. Fluor Field
I don't even care for baseball, but I can admire the architectural beauty of Fluor Field, Lindsey and I are actually having our wedding reception at their new Champions Club in a few weeks. It's a magical place, and unlike many stadiums, within walking distance to downtown, so you can grab a bite to eat and then catch a game. They've just completed a major renovation and added on some new spaces and updated the existing ones.
The tickets are cheap and on thursdays, they host $1 drink night with pepsi products and an endless supply of PBR on stock to hydrate the masses. The new seats on the Green Monster provide an unmatched view of the game, and the tickets are only $16.
11. The Low Cost of Living
Obviously an apartment right off main street, or a house in north main or off Augusta isn't the cheapest option. You will pay for location when you're close to the city. But the suburbs – Traveler's Rest, Mauldin, Powdersville, Greer have plenty of inexpensive options to Rent or Buy compared to the rest of the country.
Even our downtown apartments are relatively cheap when you compare them to metro Atlanta, or larger cities.
The proof is in the thriving downtown restaurant scene – people have disposable income to spend on dining and events, which is a good indicator that as a whole, the city is reasonably cheap to live in.
12. The Water Supply
In 2011, the Greenville Water System won "Best of the Best Water Taste Test" in Washington D.C. from the American Water Works Association. We just got back from Beaufort, SC and couldn't wait to get a glass of tap water from our home.
If you've driven into the mountains, you might have gone past one of our many watersheds or reservoirs, there's a rich history behind it all, which you can read here.
13. The People
Being in the south, we're already known for having Southern Hospitality, but I think the city has a calming effect on people. They don't walk as fast, they're aware of their surroundings, and they're generally nicer. If you ask someone a question downtown, you're likely going to get a detailed answer. If you're from out of town looking for a place to eat, someone will likely stop and give you a dozen places they'd recommend. A nice city cultivates nice people, and we think Greenville is quite nice.
Photo Gallery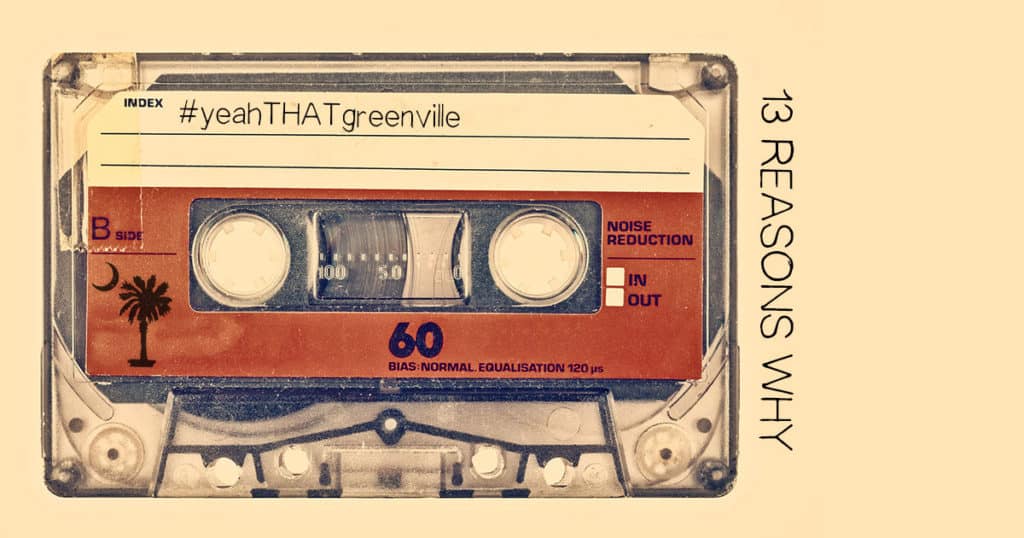 Leave a Comment
Related posts
Submit a Tip
Know something about this listing we don't have listed here?
Get our Friday Fix Newsletter