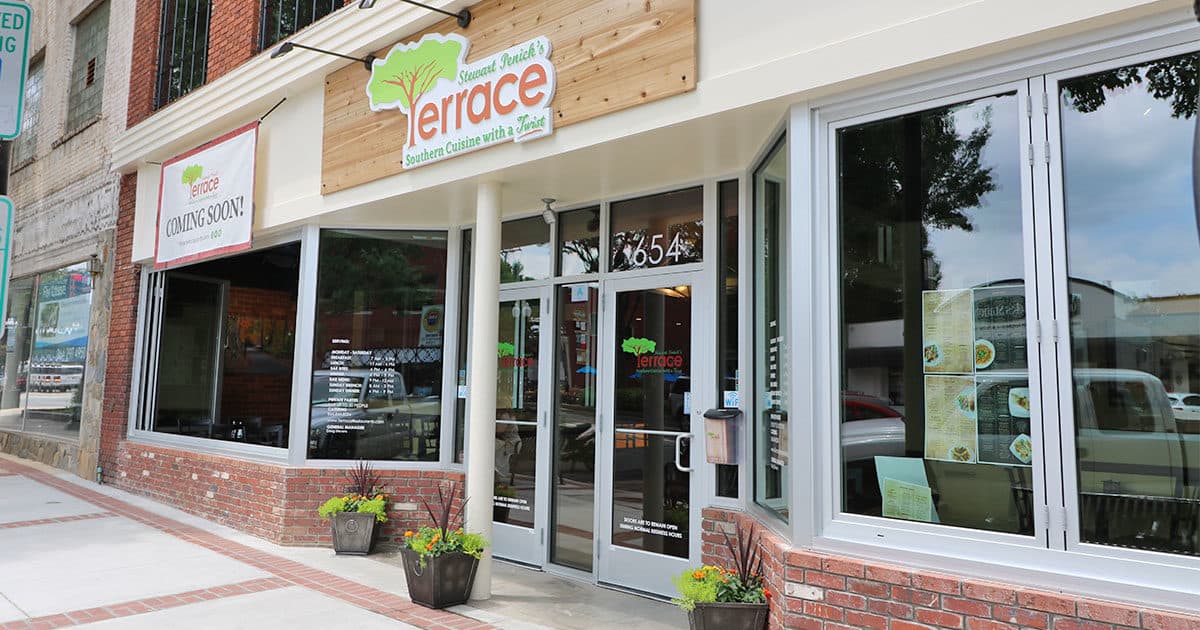 We got to preview the new Stewart Penick's Terrace restaurant, which opens Monday, May 22nd in the west end.  Most of the food at Terrace is locally sourced – the owner wanted to make the restaurants very "Greenville" and all of the artwork inside the building is created by local artists.
There is inset patio seating along the front, and plenty of table and booth seating inside.
They are open until midnight Monday through Saturday and 9:00 p.m. on sundays and will swich to a late-night menu later in the evening. On tap are local craft beers, and they offer an exclusive line of cocktails using dark corner distillery spirits you won't find anywhere else.
The owner's wife cindy works with all the of the chefs to develop the dessert menu personally. Yum!
Fun Facts
Every Terrace Restaurant has a handmade metal tree inside the entrance. The greenville location is the largest to date at 9′ Tall and 10′ in Diameter.
On average, Terrace serves 500 Guests during Sunday Brunch.
Every year, each Terrace restaurant sells 11,000 Red Velvet Waffles.
Stewart Penick opened the first Terrace Restaurant in 2009.  The greenville location is his 3rd, and he plans to open another in Fort Mill, SC in the Fall of 2017.
More from Terrace:
A Charlotte-based restaurant known for adding a modern twist to classic Southern comfort food, announced the grand opening of their new location in Greenville, SC. The downtown Greenville restaurant, located at 654 South Main Street, opens on Monday, May 22.
Stewart Penick's Terrace began serving Southern cuisine with a twist when they opened their first restaurant in Charlotte in 2009. Penick's goal then and now is to create a place for guests that feels like a home away from home while serving up award-winning dishes for breakfast, lunch and dinner. Some menu favorites include their famous Red Velvet Waffle, Shrimp and Grits, and Parmesan and Horseradish Crusted Veal Chop. Each restaurant also offers homemade desserts from family recipes created by Penick's wife, Cindy. Vegetarian and gluten-free menu options are also available. The Greenville location will offer an extensive list of local and national craft beers, wine and cocktails, including liquor from Greenville's Dark Corner Distillery. Terrace also has one of the largest lists of bourbons and scotches in the Greenville area, as well as the only Japanese whisky selection in downtown Greenville.
"I've always associated good food with pleasure and down time," said Stewart Penick, CEO and Founder of Terrace. "I loved the Southern cuisine I grew up on—biscuits and gravy, waffles with plenty of syrup, green beans with ham hocks and fried chicken with mashed potatoes. I want to recreate that and provide a place that a family can come and enjoy delicious food and make memories together."
Terrace's love for reinventing the classics is also exhibited through the historic Main Street Greenville building they now call home. The historic 1915 structure that has been everything from an auto repair shop to a department store will still operate with the same purpose of serving the community. While honoring the history of the space, Terrace aims to create an ambiance of warmth and relaxation in a modern, casual environment for everything from catching up with friends and family to spending romantic evenings out.
Greenville's Stewart Penick's Terrace is open Monday – Saturday from 7am to midnight and Sunday from 8am to 9pm. Breakfast, lunch, dinner and late-night menus will be available depending on the time of day. For more information visit TerraceRestaurants.com.
This will be the third location in the Terrace Restaurants group. The existing Stewart Penick's Terrace restaurants are in Charlotte's SouthPark and Ballantyne neighborhoods. A fourth location in Fort Mill, SC is planned to open in Fall 2017.
Photo Gallery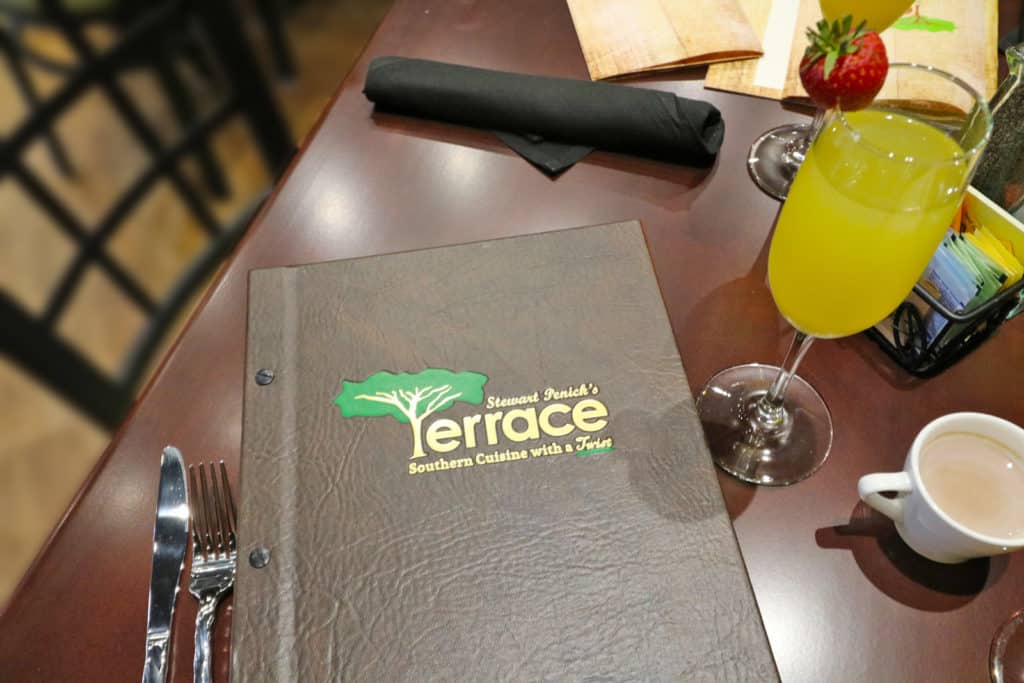 Leave a Comment
Related posts
Hours
Monday 7:00 am - 12:00 am
Tuesday 7:00 am - 12:00 am
Wednesday 7:00 am - 12:00 am
Thursday 7:00 am - 12:00 am
Friday 7:00 am - 12:00 am
Saturday 7:00 am - 12:00 pm
Sunday 8:00 am - 9:00 pm

Submit a Tip
Know something about this listing we don't have listed here?