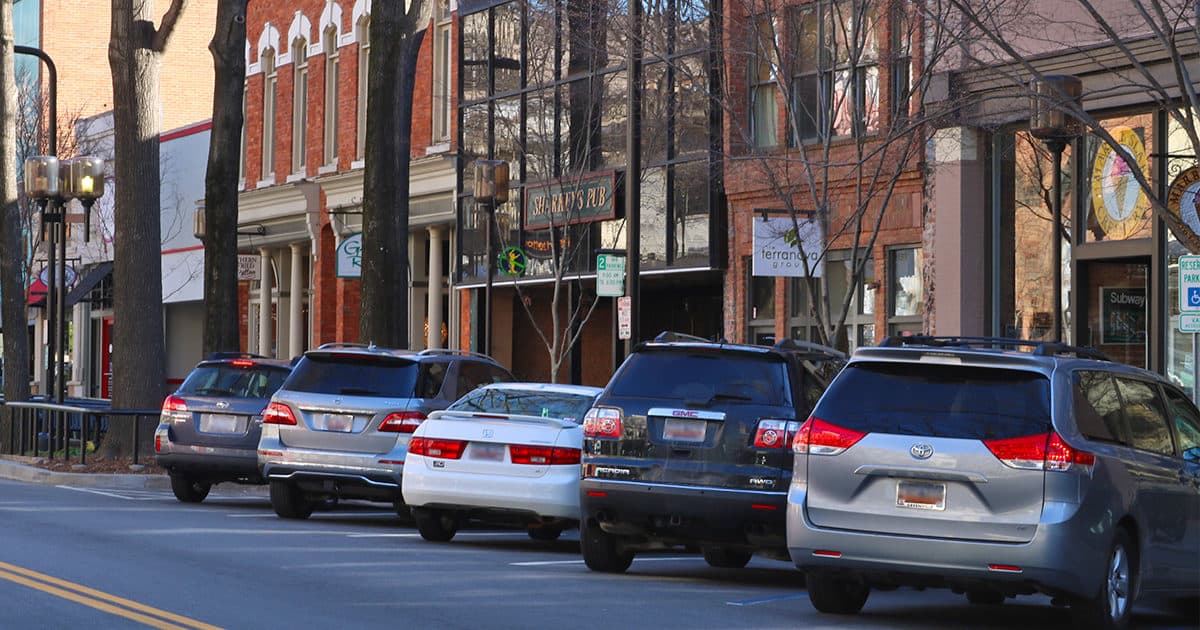 The city of greenville operates 14 parking facilities around dowtown with over 8,000 spaces, including 700 free on-street spaces, but during peak times, finding a spot can be a challenge. Here's some tips on the best places to park.
First Hour Free in City Garages
If you're making a short trip downtown to grab lunch or run into a shop, all city garages are free for the first hour, $1.50 for the second hour, and a $1 per hour after that, up to a max of $7.50 (the washington street deck and the west end park and ride are free the first hour, $1/hr for additional hours up to a max of $7.00)
If there's an event going on, event rates will prevail over the above rates.
Free Nights and Weekends
Only two city garages are completely free during certain times.
Richardson Street Garage is free from Friday Night at 6:00 PM to Monday Morning at 6:00 AM
The West Washington Parking Deck is Free daily from 6:00 PM to 6:00 AM and all day on Saturday and Sunday.
Hidden Garages
Many people don't realize that the parking decks at the Aloft Hotel and new Embassy Suites hotel are city garages, their entrances are not very well marked, and we've found it's pretty easy to park in both.
ONE City Plaza Garage (Underneath Aloft Hotel) – entrances from washington street across from barley's and richardson street right next to the richardson street garage entrance. TIP: take your parking ticket with you and pay for your parking at the kiosk in the breezeway that comes out in front of tupelo honey on the way back to your car, and save time exiting the garage, it has an express lane for people that paid at the kiosk.
River Street Garage (Underneath Embassy Suites) – the entrance for this one is along river street, just over the bridge the crosses the river and swamp rabbit trail, if you're making a left turn in, it's a little awkward, but this lot has been a ghost town when we've parked there, and it's a really good location to park.
Broad Street Garage (Next to the SunTrust Building and new Erwin Penland) – A good central location where you can park and walk to just about either end of main street comfortably, it's visible from the church street bridge, but if you're coming downtown from McBee or Broad Street, you might just roll past it thinking it's private parking for the EP and GHS Employees.
Park & Ride the Trolley
If you're just visiting falls park, parking at County Square is an easy walk and free, but is only available on nights and weekends. When the trolley is running, the route comes right through the parking lot, and you can be taken right from your car to anywhere along the trolley route downtown.
When the trolley is running, you can also find street parking on the outskirts of main street, or anywhere along the trolley route, and jump on the trolley at designated stops.
There is an app available to track the trolley in real time, you can download it by searching "Greenville Trolley Tracker" in your app store, or visit  trackthetrolley.com
Park & Ride Your Bike
If you've got a way to bring your bike with your car, parking in cleveland park gives you easy access to the swamp rabbit trail, and a short ride into downtown, although you will hit a pretty large hill going into Falls Park.
If you don't fancy hills, there is also decent parking for the swamp rabbit trail off hudson street, across from the Kroc Tennis Center (next to AJ Whittenburg and the Kroc Center). Park there, hop on your bike and you're just a couple minutes from main street, with fewer hills.
More parking info can be found at the City of Greenville Parking Information page.
Secure Your Vehicle
When you've found the perfect spot, don't forget to secure your vehicle, when possible, park in a well-lit area and lock your doors. Don't leave a second set of keys in the vehicle, and don't leave anything of value sitting out in plain view. Place your valuables in the trunk where they're out of sight.
Leave a Comment
Related posts
Submit a Tip
Know something about this listing we don't have listed here?
Get our Friday Fix Newsletter