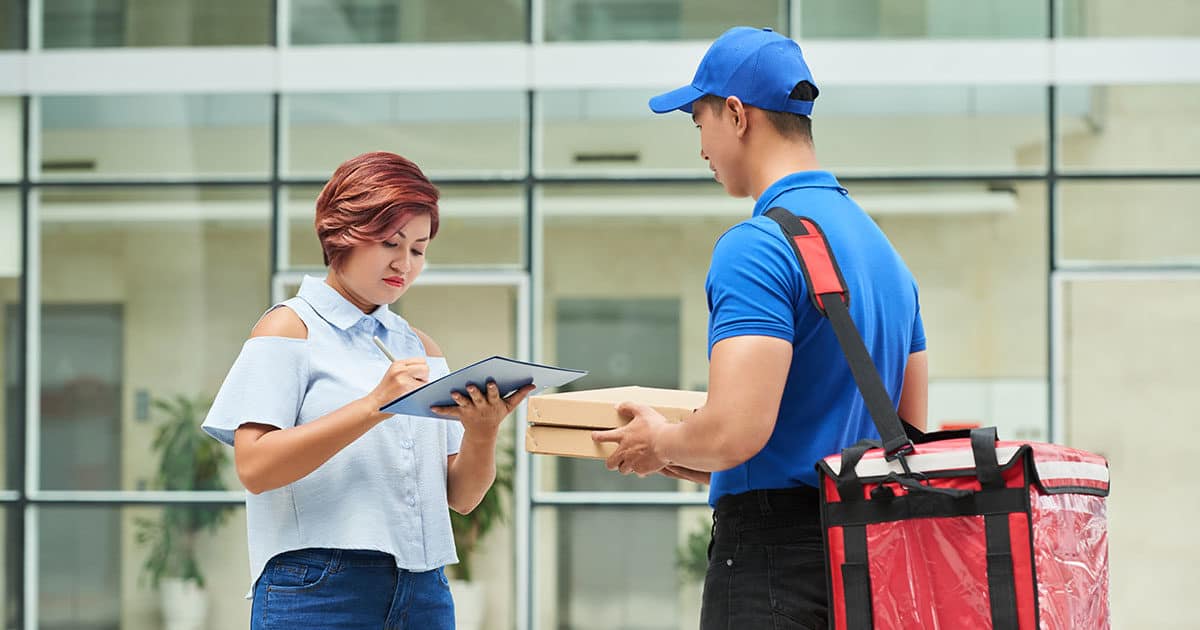 It used to mainly just be pizza and chinese food you could get delivered, but in the new gig economy, a few companies are making delivery possible from hundreds of new restaurants that don't offer food delivery on their own. Here are the four most popular delivery services in Greenville and the amount of restaurants they deliver from.
BiteSquad – 121 Restaurants
GrubHub – 46 Restaurants
Waitr – 129 Restaurants
Uber Eats – 34 Restaurants
Note: the availability of restaurants greatly varies depending on where you live, so check each of the services and see which one has the best selection for you.
The Apps
All four have apps for both iPhone and Android devices. They all work about equally well, listing which restaurants are available for delivery to your address, and showing you roughly how long delivery will take, and associated costs.
We've used all but Uber Eats (which doesn't deliver to our address yet) and all give you roughly real-time delivery information, as to when your order was delivered to the store, when it's ready, and when the driver is en route. As far as the tech goes, we don't see a massive difference between them, so don't let it sway you.
All of the delivery services charge a delivery fee, typically a flat fee between $2 and $6 (they make most of their money by charging the restaurant a 25% cut of the sale)
Here's how the BiteSquad app looks in action:
Tip: Ask on facebook if any of your friends use one of these services and get their referral code, it will usually net you a few bucks off your first order.
The Drivers
None of these companies hire full-time employee drivers, they're mostly people that have day jobs and deliver food in their spare time to make extra money. Some of them even deliver for multiple services. I've ordered grubhub and had a guy show up with waitr t-shirt to deliver my food.
Most are fairly prompt and courteous. We've ordered a dozen or some times from three of these services, and once or twice, we've gotten drivers who we've watched on the live delivery map make wrong turns, head in wrong directions and take forever to get here. Really no way to avoid it.
The drivers make most of their money from tips, all the apps will automatically configure your order with a set tip amount.
The Food
In the times we've had food delivered, the orders are typically correct. When they haven't been, a quick chat with customer service within their respective apps will usually net you a credit or refund if something is missing.
Don't expect your food to be piping hot and crispy like it would be if you were eating in a restaurant. They're packing this stuff in styrofoam or plastic containers, and often driviving 15-20 minutes to your house.  Fried foods typically don't travel nearly as well as things like pasta.
Don't forget you can also get traditional favorites like pizza delivered from non-chain restaurants that have much better pizza than the usual national chains.
Pro Tips
Check with your friends for referral codes to get discounts (Or use our referral code to get $20 from BiteSquad)
Download all the apps and see which ones have the best restaurant selection at your address.
Speak up if something is wrong, these are all customer service companies that want to retain you as a customer, so they're willing to toss some credits your way toward your next order.
Try and order food that travels well. deep-fried foods tend to arrive much soggier than you'd get fresh in the restaurant.
Broke? You can save yourself a decent chunk of change by picking up your own food. ChowNow has an app and quite a good selection of restaurants you can place and order through and pick up your own food and avoid the fees and tips.
Leave a Comment
Related posts
Submit a Tip
Know something about this listing we don't have listed here?