Get Your Business Listed on
Greenville on the Rise
We want to share your story with our audience, and to help get you started, we'll hook you up with a few tools to get you started:
Your own listing page on greenvilleontherise.com
Professional photography of your business
Your Social Links, Contact and Social Media Info
It's a great way to quickly get your business in front of our audience of greenville locals. Optionally, you can power up your listing with a social-optimized video or 360-degree photography (see below).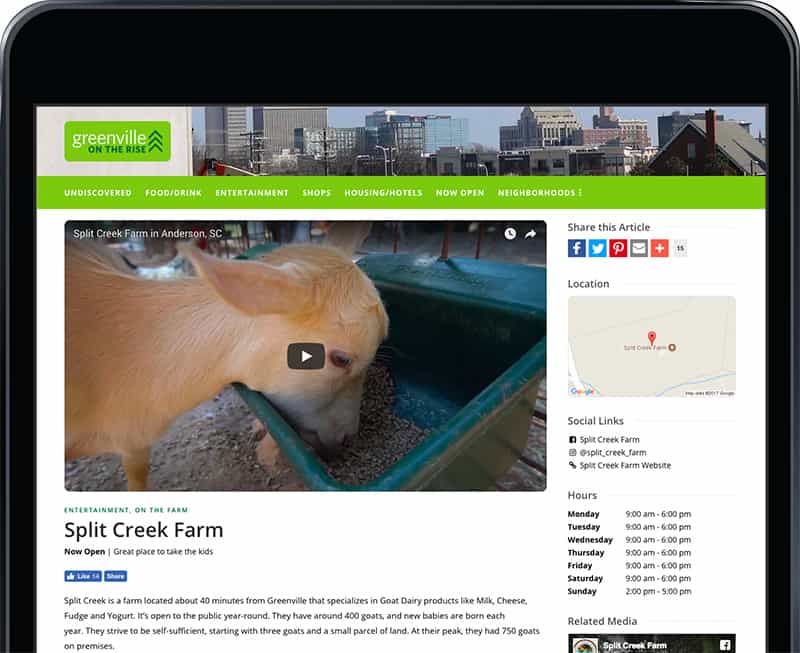 Add-on Services
Get your business ahead of the curve with these great advertising tools. Both have great longevity and showcase your business better than still photos alone.
Social-Optimized Video – $299
We'll shoot and edit a 90-second video (and provide a 60-second cut for instagram) about your business and promote it on our website, facebook and instagram accounts, and send you a copy in ultra high definition 4k to use wherever you please. Our videos aren't branded, so you can use them on your own sites. Videos get more engagement on social media, and it's a great long-term advertising tool. Best of all, everything is included for $299. Click below for examples.
360-degree Photography – $299
Give your customers an immersive, 360-degree view of your business with a Google Street View Tour. We'll take up to twenty 360-degree high quality images of your business and post them to Google Maps, so customers looking for you can get a feel for the inside of your business standard photographs just can't match. You'll also get all of your photos in Facebook 360 ready format as well, so you can share them on your own Facebook page. Everything is included for $299. Click below for examples.
Social-optimized Video + Google Street View – $499
Save $99 when you book a video shoot  and a Google Street View Tour at the same time.
Video & Google Street View Services are Provided by Our Parent Company, Greenville Webworks LLC.
Our Guidelines
Our Audience is interested in new restaurants, bars, breweries, shops and retail services. To keep our content focused on our demographic, not every business may meet our criteria for posting.
Examples of things we typically wont post:
Products or Services that are targeted towards other businesses such as marketing agencies or photographers.
Doctor's Offices, Lawyers offices, Title Loan or Pawn Shops.
Real Estate Agents or Real Estate Listings (We do list some apartment and condo projects, but not individual houses or units)
Multi-level marketing companies.
Businesses that don't have a brick and mortar storefront in greenville.
Examples of things we typically would post:
Restaurants
Bars or Breweries
Hotels and Apartments
Parks, Event Spaces, Recreation-type facilities or services.
Mixed Use Spaces that contain restaurants, bars or breweries.
Retail Shops and Stores that sell non-essential goods or services to the general public
Fitness Facilities gyms, spas and salons.
Entertainment venues such as bowling alleys and music halls.
Essentially it's up to us to determine if your listing fits our criteria, we do not want to alienate our followers by posting things that don't fit into our current site.
Request Your Free Listing
Planning a Video Shoot
The typical format is interview-style video, where the owner or manager talks about the business, with b-roll footage played during most of the talking.
Unscripted is best, but a teleprompter is available.
Keep it short, stick to highlights about the business.
We'll do the interview portion all in one take, if you mess up or need to pause to catch your train of thought, no problem, pauses, mistakes and the occassional "Um" will be edited out in post.
Video shoots typically take less  than an hour with the interview portion usually only taking 5 minutes or so.
It's best to shoot when the business is closed, or when customer traffic is low to get the best audio.
For the interview portion, turn off any music or tvs, and if possible, shut off the HVAC for a few minutes to get the cleanest audio.
Planning a Google Street View Shoot
To make sure your business looks it's best, here's some guidelines for prepping for a Google Street View Shoot.
Pick a time when the business is either closed or when customer volume is very low. People can be in the shots, but it looks better without them.
Tidy up. Clean up the floors, straighten up chairs and tables, behind the bar, etc. The camera can see 360 degrees around, and from floor to ceiling.
Consider hiding or erasing any menu boards with seasonal or limited time offers or menu items, so customers won't be disappointed if those items are no longer available when they visit.
Turn on all lights
Turn off any TVs or moving displays.
The photoshoot takes between 30-45 minutes typically.
The resulting photos can be processed and live on Google maps within a few days.